Lot 9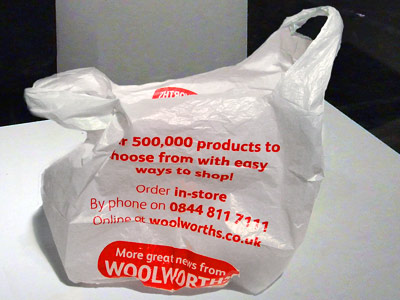 Disposable Plastic Bag
Manufactured 2008
Contents: polyethylene, manufactured using natural gas
Made for 'Woolworths'
The 'disposable' plastic bag was introduced in 1957 and by the beginning of the third millennium, over 5 trillion per year were being produced. Their non-biodegradability, coupled with their tendency to quickly become very visible litter made banning them a focus for woolly-minded 'green consumers' who continued to shop in 'supermarkets'.
Barely a hundred years since the first true plastic was manufactured, the material began coalescing in an area once known as the Pacific Ocean – at one point covering an area three times the size of Autonomous Zone 10-66.
Charles Moore, an 'American', discovered the Great Pacific Garbage Patch at the turn of century, after taking a wrong turn whilst sailing. Swirling just beneath the surface of the water he found a vast soup of plastic artefacts. After sailing for 10 days and not seeing an end in sight he returned to land, sold his substantial family oil interests and became an environmental activist.
In 2013, he was one of the victims of the Hurricane Ethelene, which dumped up to a third of this floating plastic onto the Pacific seaboard of the United States (autonomous zones 33, 45 and 78).

Provenance
Cabot Circus, Bristol's newest shopping centre has both its supporters and critics. From the very beginning of the development process though, a small army of PR and lobbying professionals have been tasked with making sure that opinions are managed in favour of the mall.
For example, public relations firm Trimedia has been working on the Cabot Circus project for nine years. Based in Queen Square, Trimedia is one of the largest PR consultancies in the South West. Its role over the years has ranged from facilitating the 'public consultation' on the shopping centre to creating the hype for its opening.
Cabot Circus' online presence has been managed by another firm, Re:Media. It acknowledged local opposition to, what has been described as "large developers forcing the homogenisation of Bristol's City Centre". Re:Media is proud though to have developed a web-presence that "engaged the community and garnered their support". 1
It was also reported that Cabot Circus' developers turned to a third company, Opinion Leader Research, to help secure favourable local opinion.2 The company describes itself as "experts in influence, deliberative engagement, dialogue and insight". However, Opinion Leader Research was criticised in 2008 by the Market Research Standards Board for using information in another public consultation (for the UK government on nuclear power) that "was inaccurately or misleadingly presented, or was imbalanced [and] which gave rise to a… risk of respondents being led towards a particular answer." (see also Lot 04). 3
Public relations companies are often put in charge of 'community consultation' by developers. But rather than offering a genuine two-way dialogue, consultation is frequently seen as a way of winning over local opposition. As another Bristol-based PR company, PPS, puts it: "Get it
right and you can bring the community with you. Get it wrong and you will face heightened concerns." PPS is another PR company that has been criticised for its practices, including the alleged forging of letters and bugging of private council meetings.4
1 Re:Media, Property Developers and the Web (pdf)
2 Bristol Indymedia, 27 September 2008
3 Another nuclear consultation was fixed, Greenpeace, 17 October 2008
4 PPS Group on www.SpinProfiles.org