Lot 4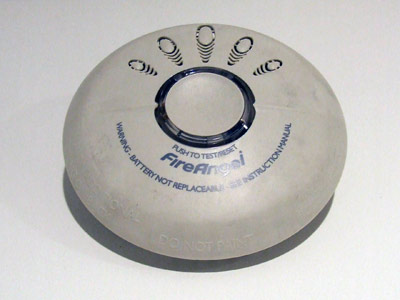 Smoke detector
Date:c1980
Contains radioactive isotope americium -241 manufactured at Sellafield, UK
Although we now consider the nuclear power/arms industry a dangerous folly, we cannot resign it to the annals of history. The legacy of this industry is still keenly felt, and will be for the next 24,000 years - the half life of plutonium.
As an investment, not many lots can claim an almost guaranteed long-term interest such as this - and that's proven by science.
One fundamental problem that the era of 'atomic enthusiasm' failed to address was how to put in place warning systems1 of danger sites for future generations.
A 2009 advert placed by LLW Repository Ltd in the Whitehaven News began:
"We need your help: Did you work at Sellafield in the 1960s, 1970s or 1980s? Were you by chance in the job of disposing of radioactive material? We are very keen to speak to people who were directly involved in consigning nuclear waste...in order to build up a comprehensive picture of the waste inventory in the trenches."
1 A yellow trefoil emblem was used as an international standard for some time. This was then updated for ionising radiation with a picture of a man running away from a skull. Some wavy lines were also added.

Provenance
An "unattractive option" is how nuclear power was described by the British government in its 2003 energy policy paper. However, it also said that before any decision was taken to build more nuclear power stations, there would have to be "the fullest possible public consultation."
In the run up to the consultation, the nuclear industry ran a sophisticated PR and lobbying campaign, pushing its pro-nuclear message through third parties including its own workers, MPs, academics and charities. It also cleverly aligned new nuclear power with the pressing concerns of climate change and energy security.
For example, nuclear firm BNFL commissioned a public relations company to come up with a series of 'race cards' with key messages to help their senior staff push new nuclear in the media. These prompted them to make the debate "personal", using "simple, straightforward language", while "emphasising how nuclear protects values". One card linked nuclear power with climate change: "CO2 emissions = climate change = irreversible damage to our environment," it said helpfully.1 This message was echoed by another PR firm, the global Weber Shandwick, which was also working for BNFL on a "Nuclear New Build" strategy. It pushed the point that "nuclear power is essential in combating CO2 emissions" – a link that now appears to be accepted as fact in the minds of many.2
Greenpeace took the government to court over the poor quality of the public consultation. A high court judge agreed, deeming it "misleading", "seriously flawed" and "procedurally unfair". According to Mr Justice Sullivan: "Something has gone clearly and radically wrong".
The ruling forced the government to undertake a second consultation exercise. Following this, in January 2008 the British Labour Government gave the go-ahead for the building of a new generation of nuclear power stations.
1 Nuclear Energy Racecards, Strategic Awareness: www.SpinProfiles.org
2 The Case for Nuclear, Email Sent from Weber Shandwick to BNFL, 15 December, 2004:
www.SpinProfiles.org