joint projects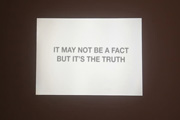 POST TRUTH IN CAPS
Is it a short post-truth slide presentation?

Gladiator
Installation, AcT of Magic, STUK, Leuven, Belgium (2017)
Hull, Gateway Europe
Beermats
Reooted, Hull City of Culture 2017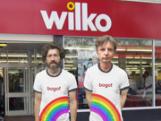 The Castle
A Hoodwink commission in a Wilkinson's store in Folkestone.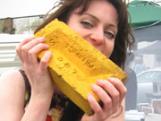 Art Car Boot Fair, Folkestone 2014
Some of the goods from 'The Castle' on sale at the Folkestone Art Car Boot: yellow brick road bricks, rainbow paint, diy rainbow misters, art history made out of sticky dots etc...
Ono Yoko
We made this gif of Yoko Ono's poster during the Folkestone Triennial. As Adrian Searle said - 'I never want to see another Yoko Ono poster ever again'. Or to be more succint - 'Oh no. Yoko.'
Folkestone Triennial 2014
The Car That Turned
''The 'classic' American road movie was both an emblem of achieving and escaping from the American Dream.The car, the road and the hero are the holy trinity of American cinema. But what would a convincing UK road movie look like? What architecture would it traverse today? How would the plot develop if it were constructed from the shapes and patterns of the ubiquitous data collected from ANPR technology? What would its journey tell us if the data were combined with how researchers approach and analyse the data?