Lot 7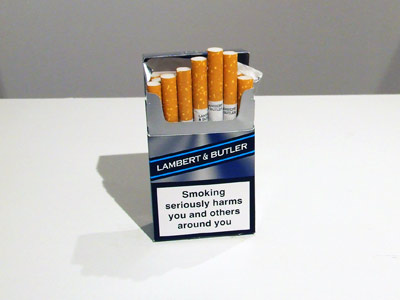 Cigarettes
Date: c2012
Packaging and Contents (20)
Manufacturer: Imperial Tobacco Group plc
Contains (when lit and inhaled properly): nicotine, carbon monoxide, tar, butane, ammonia, methanol, formaldehyde, cadmium, radon, hydrogen cyanide, arsenic, acetone
One of the most interesting aspects of late capitalist culture – and one that should be remembered whenever comrades may feel our current struggles and problems overwhelming – was the self destructive nature of so many of the desperate people who had the misfortune of populating it.
There is no better example of this than the habit of smoking tobacco. The collapse of the imperialist tobacco industry was one of the first spectacular events of the post-capitalist era and the burnt out remains of the Imperial Tobacco Group plc1 here in Bristol have been left as a monument to those early days.
Adams & Smith can proudly offer2 a full packet of pristine, unopened Lambert & Butler cigarettes, containing 20 unsmoked pieces in their original packaging.
1 ITG...'proud to manufacture and sell a range of high quality cigarettes and other tobacco products for the enjoyment of millions of adults worldwide'
2 Adams & Smith state quite clearly that the purchasing of this lot should be purely as a collectable souvenir, and not to be consumed by its owner, or by anyone who comes into contact with them, which is in violation of the vast majority of autonomous zones voluntary civic conduct agreements.

Provenance
In 1953 the heads of the major US cigarette manufacturers met in New York with representatives of PR and lobbying firm, Hill & Knowlton (see also Lot 01). Together they agreed to conduct a long-term public relations campaign to counter the growing evidence of smoking as a cause of serious diseases. It was to be the start of a vast, fifty year campaign to hide the health effects of smoking, with Hill & Knowlton at its heart.
A year later Hill & Knowlton set up the first of many 'front groups' (the term for a lobby group that hides its true purpose and financial support) called the Tobacco Industry Research Committee. It quickly launched an ad campaign with "A Frank Statement to Cigarette Smokers". Echoing many PR campaigns since, the ad assured the public that the industry took its responsibilities very seriously, and promised more research, openness and cooperation with the authorities on the health implications of tobacco. To improve its credibility, the Committee also hired Dr Clarence Little, former head of the American Society for the Control of Cancer, as its director.
A second tobacco front group, the Tobacco Institute, was set up by Hill & Knowlton in 1958. It was described by The Public Relations Journal as one of the most "formidable PR and lobbying machines in history". More than thirty years later, the Institute was still spending $20 million annually on pro-tobacco campaigns.1
Even as late as the nineties cigarette makers continued to invest in front groups. Philip Morris, for example, employed another lobbying firm, Covent Garden-based APCO, to launch and run a group known as The Advancement of Sound Science Coalition. The purpose of the coalition, as described in one APCO memo, was "to link the tobacco issue with other more 'politically correct' products".2
Perhaps the most shocking role played by public relations was in maintaining controversy over the health effects of smoking where there was none, as demonstrated by a Hill & Knowlton strategy memo from 1968: "The most important type of story is that which casts doubt on the cause and effect theory of disease and smoking," it said. Eye-grabbing headlines were needed, which "should strongly call out the point – Controversy! Contradiction! Other Factors! Unknowns!"3
1 Stauber J and Rampton S, Toxic Sludge is Good For You: Lies, Damn Lies and the Public Relations Industry, 1995
2 The Advancement of Sound Science Coalition on www.SpinProfiles.org
3 Hill & Knowlton memo from Carl Thompson of the Tobacco Institute, 18 October 1968