Lot 5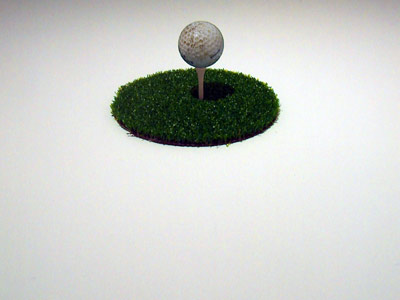 Golf ball & tee
Date:2012
Golf was a game once considered a sport, where one would hit a ball, walk after it and hit it again and again until the 'athlete' had completed a set of obstacles and targets on the 'course'. This is not to be confused with the popular and skilfull crazygolf still played today.
Golf was often seen as an elitist bourgeois pastime, whose extensive courses lay ruin to vast swathes of land. A somewhat male-dominated pursuit, it often attracted businessmen, presidents of the then United States and 'light entertainers' who wore ridiculous clothes and hairpieces.
The late 19th century anti-imperialist Langhome Clemens – better known as Mark Twain – wrote that 'golf is a good walk spoilt'. The now defunct United Nations once estimated that the upkeep of the world's golf courses consumed 2.5 billion gallons of water a day.
This particular golf ball is rumoured to have been used in the last game of golf ever played, the round being cut short as the player was clubbed to death with a five iron by his valet in the lead up to the 2012 Easter Uprising.

Provenance
Donald Trump's proposed golf course in a Scottish nature reserve has divided local opinion, with those who see the development's promised economic benefits pitted against people concerned about the lasting environmental damage it will cause.
Trump claims the two proposed 18 hole golf courses, 450 bedroom hotel, 950 holiday apartments and 500 new houses will "improve the natural environment".1 Others see it destroying the area's rare and protected dune system.
To help win over the locals, Trump has hired a small fleet of public relations and legal advisors.
For example, Scotland's largest PR company, The Big Partnership was drafted in in early 2008 to drum up local support in the run-up to a key public inquiry on the development. Trump's US lawyer, George Sorial explained that the Trump empire, which owns several million square feet of prime Manhattan real estate, "needed support in ensuring we communicate our key messages".
Another firm drafted in to help is Dundas & Wilson, Scotland's largest law firm. Trump has sought its advice in relation to the golf resort since at least 2005, specifically from Dundas & Wilson's planning team chief, Ann Faulds.
Faulds' experience includes work for the Scottish government, as a member of the Executive's research team on, among other things, development planning, and compulsory purchase and compensation.2
It's reported that Aberdeenshire Council's next move in the golf course saga is the use of compulsory purchase powers to force residents on the land out of their homes.
1 Auslan Cramb, Donald Trump to show site of £1billion golf resort to supermodel wife, The Telegraph, November 2008
2 Dundas & Wilson, Ann Faulds biography