Lot 6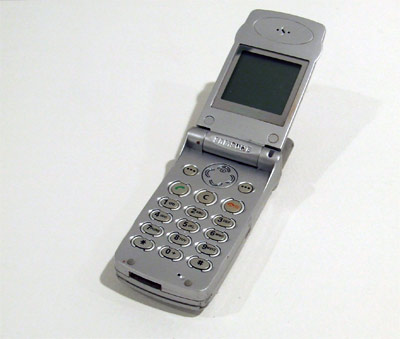 Mobile Phone
Date: c 2000
Manufactured by Samsung
Contents include arsenic, antimony, beryllium, brominated flame retardants, cadmium, lead, nickel, palladium, silver, tantalum, zinc, mercury and cadmium (toxic), & tantalum (non-toxic)
Of all the hysterical adoption of new technologies which typified the late capitalist period, none was more ubiquitous than the portable, or as it was known, 'mobile' phone. Despite the wars caused by the supply of the mineral tantalum needed in their production, they became the de rigeur technology of late capitalism. At one point in the former UK it was claimed that for every person there were 1.6 mobile phones.
The cracks in their dominance began to appear in 2017, when the religious cultist company 'Mac' released their fourth generation 'A.I. FingerPhone'. Realising that the main role of mobile phones had become affirmation and not communication, the AI phone was the first 'handset' to self-generate content, allowing the user to converse with the phone itself.
The phone monitored the user, and started rudimentary conversations about everyday matters at any time and in any place – the medium had finally become the message.
The widespread breakdown in public mental health is well documented, and almost all AI handsets were destroyed in the Second Reformation.
Adams & Smith are delighted to offer this compact early Samsung handset, a reminder of more simple and less aggressive times.
*comes complete with pre-emptive thinking facility

Provenance
Mobile phone manufacturer, Samsung is the second largest maker of handsets in the world. It is part of the Samsung Group, a huge conglomerate that accounts for 20% of South Korea's total exports.
One of its companies, Samsung Techwin, has an interest in military hardware. Its K9 Thunder tanks, for example, are described as "meeting the requirements of 21st century warfare" with its "deep fire support", "higher mobility and protection".
Samsung has also developed an armed robot, the SGR-A1, which uses state-of-the-art surveillance technology – it is capable of tracking a number of moving targets – and an optional lethal weapon, which can "identify and shoot a target automatically from over two miles away". The robot sentry can be fitted with a range of weapons, including a machine gun.
Developed for use in the demilitarised zone between North and South Korea, it was reported that Samsung is also looking to deploy the robot "minus the gun, but perhaps with some sort of non-lethal weapon" at airports, prisons, and nuclear power plants, among other places.1
As in previous years, Samsung will be a full sponsor of the 2012 Olympic games in London. On its commitment to the Olympics, the company says: "Over the years, sports have been utilised to promote world peace and to uplift the human spirit. Samsung's corporate agenda to contribute to humanity corresponds with the very spirit of sports."2
1 Jean Kumagai, A Robotic Sentry For Korea's Demilitarized Zone, IEEE Spectrum magazine, March 2007
2 Samsung, Environmental and Social Activities: www.samsung.com