press release
Hollington & Kyprianou at
South Hill Park
, Bracknell.
opening day 2nd February 2008 between 2-4 pm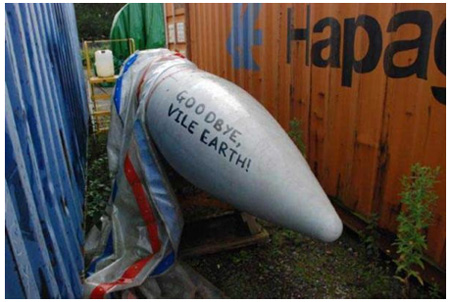 2008 marks the 100th anniversary of the first manned powered flight in Britain, made by former cowboy Samuel Cody over Farnborough Common.
The Common became home to the now defunct Royal Aircraft Establishment, a top-secret military complex and what was one of the most important aeronautical research centres in the world.
Goodbye, Vile Earth! is the result of a residency at Farnborough Air sciences Trust, set up by ex employees to maintain the RAE's history.
Contained within the museum and several storage containers are thousands of artifacts, films, declassified reports and photographs-many of which will be shown in public here for the first time.
Hollington & Kyprianou use elements from the archive to create a time line of the working life and scientific projects of the RAE, combined with contemporary interviews exploring the pathology of archiving and its communication, in effect creating an archive of the archivists.

A second timeline, a subjective history of modern art, will run alongside, allowing an appraisal of how discoveries and developments in both changed our perceptions of, and the actual physical and social structures of the world.
Amongst The RAEs projects were the development of the Spitfire, the bouncing bomb, ejection seats, the jet engine and Concorde. The RAE was also home to the British space programme, which for a time in the 1960's was one of the leaders in the field of rocket technology.
Intrinsically entwined with this industrial history is a rich social and cultural one, including the mass mobilization of female workforces, shifting gender and class hierarchies, the secrecy and myths surrounding the site, and the question of ethics in relation to scientific industrial military research.
'Goodbye Vile Earth!' is a misquote of the Italian Futurist Filippo Marinetti, whose love of flight led him to see a future where humanity abandons terra forma for a life permanently in the skies. He actually wrote "Hoorah! No more contact with the vile earth!" in the Futurist manifesto, published in 1909, the year after Cody's first flight on Farnborough Common.
With the generous support of Farnborough Air Sciences Trust, South Hill Park, SCAN, and Distributed South.
February 2nd - March 16th 2008
Admission Free
Gallery opening times:
Wednesday 7.30-9.30pm
Thursday, Friday, Saturday 1-9.30pm
Sunday 1-5pm
Directions to South Hill Park
Free ARC gallery talk on Sunday 16 March 3pm.
related pages