McGuffin / 38 divinity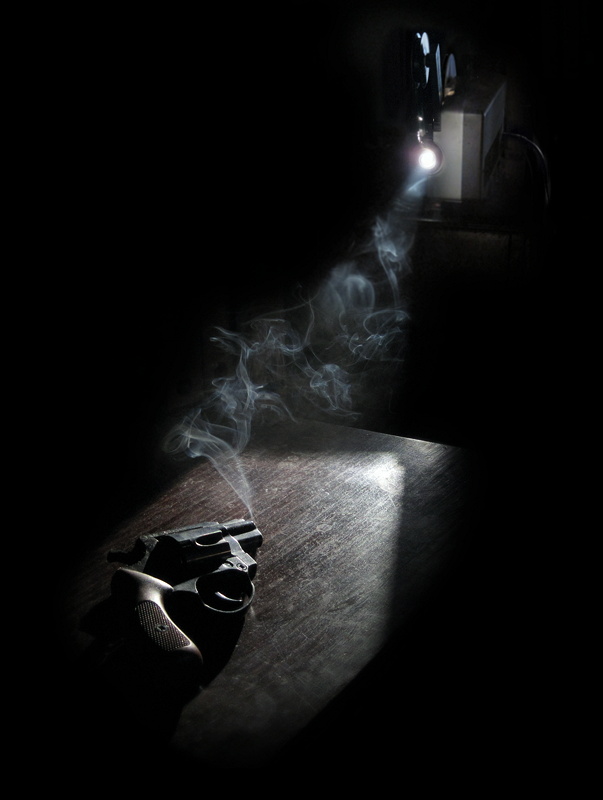 McGuffin
, &
38 Divinity
are two depatures from the same project.
'McGuffin' was shown at 'Visions In The Nunnery', at the Nunnery, London 2000 as an installation comprising of a smoking handgun on a desk, lit by a film projector in the darkened gallery office, which the gallery kindly agreed to vacate for the duration of the exhibition. The gun continually smokes as if just fired, illuminated, and powered by the narrow beam of the projector.
The title is taken from an idea popularized by Alfred Hitchcock ina 1939 lecture at Columbia University: "[W]e have a name in the studio, and we call it the 'MacGuffin.' It is the mechanical element that usually crops up in any story. In crook stories it is always the necklace and in spy stories it is always the papers."
The 'mechanical element' in this case is the film projector itself, a low budget response in a show explicitly dealing with (and exclusively using) 'new-media'. The 'macguffin' IS the use of new media as a referrer of itself.
The smoking gun acts as a prop and a metaphor, as an isolated film scene. It constantly extends the moment, (the gun never stops smoking) and in doing so confuses the narrative conceit of 'the moment after: the evidence of a near past.
'38 diviinity' was a film version in response to a call from the artist group Host who invited artists to create a response to the cinematic experience, to be screened in cinemas and non-gallery venues. The film version begins with a blank screen, the projector motor can be heard switching on, the light flickers and illuminates the gun which begins to smoke. The film lasts for one minute, then the projector is switched off, the light cuts out and the motor judders to a halt.

38 Divinity has been screened at: Showroom Cinema, Sheffield 2004, Cornwall Film Festival 2004, Falmouth Arts Centre 2004, Side Cinema, Newcastle upon Tyne, 2005, Le Festival: Nouvelles images part of Le Festival International du Premier Film in Annonay, France 2006, Consortium, Amsterdam 2006, The Space, London 2006.
The dvd features work by Katie Davies, Ben Crane, Anthony Shapland, Carl von Weiler, Charlotte White, Bev Stout, Donald Bousted, David Griffiths, John Cockshaw, James Price, Laura Hardman, Edwin Rostron, Maud Haya Baviera, Katy Woods, Richard Bolam, Michael Cousin, Michael Day, Meriel Herbert, Michael Hohl, James Brown, Mark Pilkington, Steve Hawley, Nathaniel Rackowe, Neil Webb, Rose Butler, Hollington & Kyprianou, Jaime Albardiaz, Rob Nevitt, Enda Mullen, Christiane Thalmann, nexttime, Steve Swindells, Butt, Ian Dearman
Tony Kemplen, Steve Dutton & is available from
HOST 4