Various artworks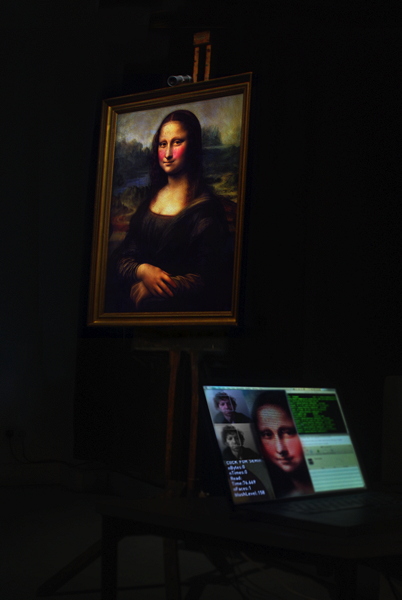 Blushing Mona Lisa
Tom Keene
and
Kypros Kyprianou
's Blushing Mona Lisa is a reworking of the most looked at portrait in the world. The longer one looks directly at her, the deeper she blushes.
Alongside the admittedly cheap reproduction of the portrait hangs an updating explanatory text. Combining visitor comments with articles discussing the impact of the Mona Lisa, auto-generative software forms a new description which at first glance pertains to authority, yet is ultimately meaningless.
With its famous 'enigmatic smile', the Mona Lisa became more famous as an object when it was stolen. Despite the disappearance of the object itself people flocked to gaze at the empty space, the lack of the gaze of the art object turned into an event in which the spectators themselves became the spectacle, the museum experience shifts, reversing the gaze onto the viewer.
No wonder she's blushing.
Commissioned as part of "Like Shadows: A Celebration of Shyness"
Supported by the Engineering and Physical Sciences Research Council, as part of Supporting Shy Users in Pervasive Computing project, undertaken by the departments of Informatics and Sociology at The University of Sussex and by Brighton and Hove City Council. Curated by Helen Sloan.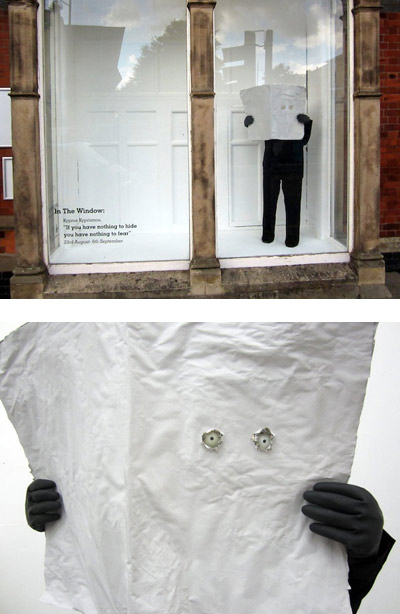 If You Have Nothing To Hide, You Have Nothing To Fear (installation view)
If You Have Nothing To Hide You Have Nothing to Fear
If You Have Nothing To Hide You Have Nothing to Fear takes its title from a phrase attributed to everyone from George Orwell to Joseph Goebbels. It has been repeated more recently by William Hague, framed as an assurance over intelligence agencies currently harvesting vast amounts of online-based communication.
The piece is a comic book rendering of this surveillance albeit from a different spy era - the Cold War. It takes the form of a life sized figure, stood as if reading a newspaper with holes cut out for its eyes. It is fashioned using rudimentary materials – papier-mâché, ping pong balls and heavily applied paint. If one looks carefully, there is little of substance to the figure – there are no arms attached to the hands, and the ping pong ball eyes are have marker pen dots on them, slightly glowing to complete the slipshod illusion.
To the casual passer-by it might look at first look convincing. On closer inspection it is a flimsier construct. But for 2 weeks, it is always there, night and day, watching.
Shown at Airspace Gallery - In the Window programme - in 2014.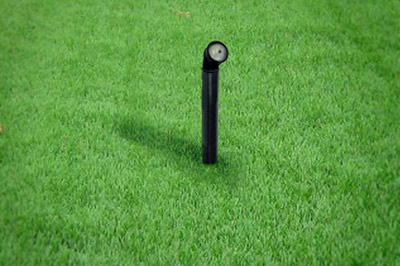 Leviathan (mockup mid)
Leviathan
Leviathan is made from rudimentary materials - plumbing pipe and a ping pong ball with a marker penned dot for an eye. Its title is perhaps a couterweight to the slight and humorous hidden bulk that its form implies - a reference to both the biblical leviathan and Hobbes' book, written during the English Civil War that argued for a social contract and rule by an absolute sovereign.
Leviathan will be shown in 2015 at Burghley Sculpture Garden, completed a year before Hobbes' birth in 1589.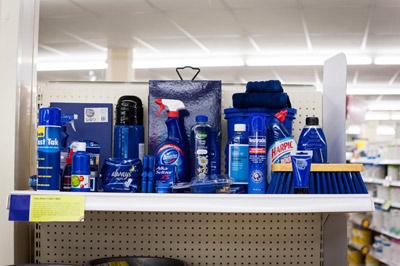 The Castle: Yves Klein Blue (detail)
The Castle (Yves Klein, detail)
A selection of goods distinguished only by their colour sit on a shelf in a functioning Wilko's hoemware shop in Folkestone.
A label attached to the shelf reads: 'The letters IKB stand for International Klein Blue, a distinctive ultramarine which the artist registered as a trademark colour in 1957. He considered that this colour had a quality close to pure space and he associated it with immaterial values beyond what can be seen or touched. The announcement card for his one-man exhibition at the Galleria Apollinaire, Milan in 1957 described IKB as 'a Blue in itself, disengaged from all functional justification'.
The piece is par of the installation 'The Castle' by Hollington & Kyprianou in Wilko's Folkestone till March 2015.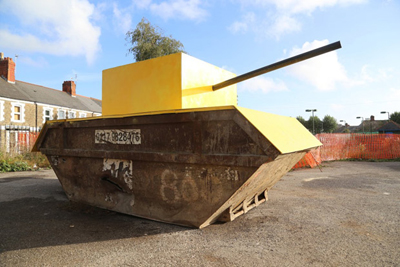 Canary
Canary
Canary uses wooden panneling and guttering pipes to turn a skip into the rudimentary form of a tank. It points East, immobile and waiting to be dimantled and removed in the container that it uses for a shell.
Commissioned by Artshell for the Made In Roath festival, 2013