The Hope of Wrecks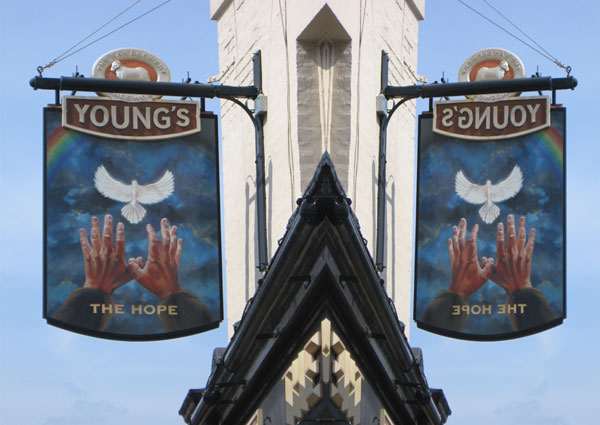 THE HOPE OF WRECKS
Art and Design Gallery Friday 13 September – Saturday 19 October
Museum of St Albans Friday 13 September – Sunday 27 October
Exhibition website:

Opening Reception: Thursday 12 September 5.00pm – 8.00pm (Art and Design Gallery)
Closing Reception: Saturday 26 October 6.00pm – 8.00pm (Museum of St Albans)
Featured artists:
Jo Addison, Chris Dobrowolski, David Ersser, Daniel Goodwin, Friedrich Kunath, Martin Kippenberger, Kypros Kyprianou, Adam Norton, Selina O, David Shrigley, Ali Tareen and Paul Thek
UH Galleries is delighted to present The Hope of Wrecks, an international group show curated by Andrew Marsh and Simon Hollington.
'We must accept finite disappointment, but never lose infinite hope'. Martin Luther King Jnr.
The Hope of Wrecks is a play on the title of the seminal German romantic painting, 'The Wreck of Hope' by Caspar David Friedrich.
As the world is struggling to recover from a continuing global financial and ethical crisis it seems a fitting moment to explore how contemporary artists address the term 'Hope' both personally and politically.
The Hope of Wrecks explores how certain artists produce works which have an inherent optimism when seemingly either they, or the world that surrounds them, is at 'rock bottom'. This optimism, whether it be overt or underlying, is expressed using strategies like humour, satire, honesty, naivety or faith.
The majority of our life experience may be futile, a tiny percentile of this experience, however, transcends inerta and despondency allowing us to feel optimistic and enthusiastic in spite of ourselves.
The show will exhibit a range of multi-media works by established, mid-career and young artists contextualising a modus operandi that has been at the core of artististic enquiry throughout history. In many of the selected artists' work there is a 'gallows humour' that both mocks and confronts either themselves, their environment, or the viewer.
'Hope in reality is the worst of all evils because it prolongs the torments of man'
Friedrich Nietzsche
For further information please contact UH Galleries on +44 (0) 1707 284290 or uhgalleries@herts.ac.uk
Image: Courtesy of Simon Hollington
Notes for editors:
Opening Hours
The Art and Design Gallery, Hatfield is open Monday to Friday 9.30am-5.30pm, and Saturdays 9.30am-3.30pm. The Museum of St Albans is open Monday to Saturday 10.00am-5.00pm, and Sundays 2.00pm-5.00pm.
Exhibition
Exhibition curated by Andrew Marsh and Simon Hollington. For further information about the exhibition please visit www.hopeofwrecks.wordpress.com
Curators
Andrew Marsh has a BA in Fine Art from Norwich School of Art and Design, and an MA in Fine Art Administration and Curatorship from Goldsmiths. He teaches curatorial practice across all three years of BA Communication, Criticism and Curation at Central Saint Martins. He is also a freelance exhibition organiser and has curated and managed exhibitions and events in London, Birmingham, Dusseldorf and New Delhi (to mention a few); he has written for 'Flash Art', various artists' monographs and other publications.
Simon Hollington is an artist working in a range of media from painting and drawing to interactive narrative environments. His work has been exhibited widely in the UK including Tate Modern and the ICA London as well as internationally including The 51st Venice Biennale as well as shows in mainland Europe, North and South America and Australia. He has been a guest speaker at Tate Britain, The Royal College of Art and The Royal Society for the Arts. He has been teaching at Central St Martins since 2000 where he is currently an associate lecturer in Contextual Studies.
Funders and supporters
This exhibition has been kindly supported by Arts Council England, University of the Arts London, and BA (Hons) Criticism, Communication and Curation - Central Saint Martins.
UH Galleries
UH Galleries, at Hatfield and St Albans, are amongst the most innovative contemporary art spaces in the UK. Working with emerging and established professional artists across all media, UH Galleries organise a rolling programme of exhibitions and collaborate with other major cultural institutions across Europe. UH Galleries' exhibitions, which give artists space to experiment and develop new ideas, have been critically acclaimed in the national, international and specialist press. For further information please visit www.herts.ac.uk/artsandgalleries
Associated Events
Curators Talk: Tuesday 22 October, 1.00pm Lindop Building, Lindop Building
Big Draw for adults: Saturday 26 October, 3.00pm Museum of St Albans
This exhibition will be showing across UH Galleries' two sites. For further information and bookings, please contact UH Galleries.